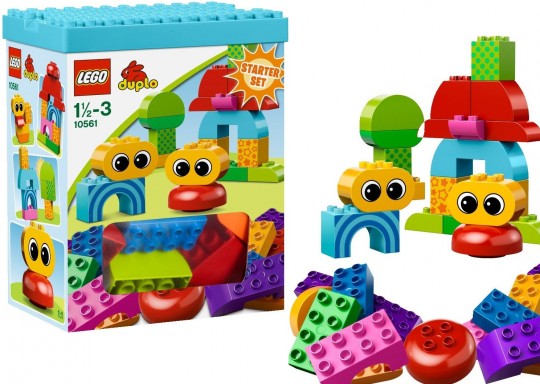 Amazon have taken 25% off this really cute little LEGO Duplo Toddler Starter Building Set, which was £17.99 and is now £13.49 with free UK delivery.
I've heard it said that children who play with construction sets such as LEGO develop fantastic logic and strategic skills, similar to those who play chess. I'm not sure about that, having not studied or done any research on it my self, but it's what I've heard. It's also going to have to be great for creative play - how can it not be?
These sets are aimed at 1 1/2 year olds to 3 year olds, so they shouldn't swallow it easily, although you probably want to stick around to make sure .
The extra-large LEGO DUPLO bricks are the perfect introduction to creative building. This 37-piece set includes patterned and eye-decorated bricks that are fully compatible with standard DUPLO bricks and elements. The box lid also doubles as a building plate.
It's not a huge set and it really is just a starting point, but there are so many Duplo sets available these days, you're bound to build a good collection really quickly. I know we did!I must say though - this particular set has a fair amount of 'it's cute, but what is it?' about it!