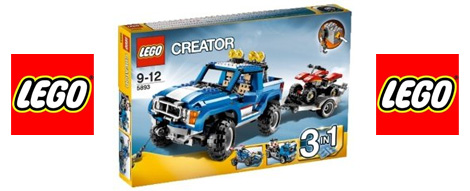 Amazon have taken 34% off the full retail price of this Lego Creator Offroad Power vehicle, selling it for £47.48 instead of £71.99.
I'm in Lego mode today; this Lego Creator Offroad Power vehicle looks great and having read the reviews, I'd be lying if I said I was tempted to buy it for my youngest (who's far too young for it) just so I can build and play with it myself.
And I'm not alone in that thinking either...
"You don't have to be in the age range on the box to enjoy this. As two adults well past the age described on the box, we're enjoying revisiting the simpler world of our childhood.
The magic of toys like this is the way they bring the generations together in a non-competitive atmosphere.
Certainly, it is possible to score points over one another by discovering what goes where first but the real excitement with a toy like this lies in making something together and then being able to play with what you've made."
The Lego Creator Offroad Power has so many features that my word limit will be WAY over if I tell you all of them, so here are the main highlights:
You can control the steering, the suspension and there's also a self-winding working winch for hauling yourself out of trouble.
You can rebuild the offroader into a truck with a quad bike or a dune buggy and the offroader's doors, bonnet and boot open.
There, is that enough to tempt you? If it is, please don't procrastinate too long, Amazon might just winch the price back up sometime soon...you never can tell.
Thanks to mckayc at HUKD