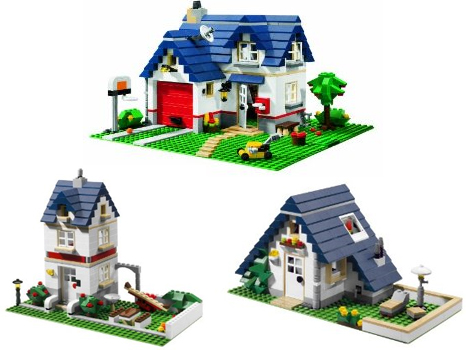 REJOICE! OH JOY! OH RAPTURE!
Amazon have reduced the price of the Lego Creator Apple Tree House again – it's down to £27.49 from £40.99…for now.
This Lego Creator Apple Tree House has to be the best real estate bargain on the market WORLDWIDE as you get three houses in one: a country home, a tall town house and a more relaxed summer holiday home for chilling out in.
The country home has an apple tree outside is full of fun and realistic details, including a working mail box with letters inside, a satellite dish on the roof, a basketball net and lawnmower, opening front and garage doors and a ladder up to the attic.
My youngest son has TONS of Lego and Lego Duplo - you know, sometimes I think he has more Lego than the Lego factory...at least that's how it feels sometimes - and one of his most common requests is, "Please will you help me build a GIANT Lego house?"
The last time Amazon reduced the price of the Lego Creator Apple Tree House it went out of stock pretty damn quick; if you missed out the last time then grab one now and if you weren't looking last time and want one…grab one now!
It's awesomely awesome so don't dawdle if you want one – it'll either go out of stock or Amazon will fiddle with this fab' price.
Happy House Building!