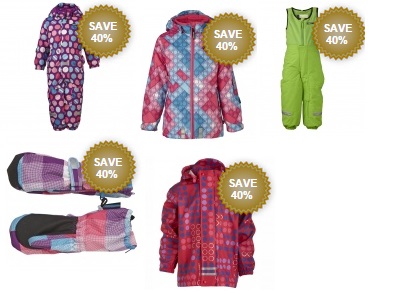 Wellies and Worms have a lot of 'final reduction' products available at the moment, but among their offers there's also 40% off LEGO branded clothing. While a lot of this you might not recognise as LEGO if you walked by it in a shop, die hard fans should be happy with it. Assuming all LEGO branded clothes are the same quality, these won't let you down - my daughter has a LEGO branded dress that's been knocking about for a couple of years already, and looks pretty much new!
From the LEGO Aske Winter Hat 1 - 4yrs* reduced to £5, there's a wide selection of clothes in the offer including LEGO Aske Winter Hat 1 - 4yrs* for £11.99 to mittens for £13.19 and amazingly warm looking jacket for £13.79.
There are ski outfits, if you're going off to be adventurous in half term, and some beautiful older kids insulated jackets that would do the trick quite perfectly too.
With up to 65% (actually) off, it's a good little sale for all those winter time action heroes.