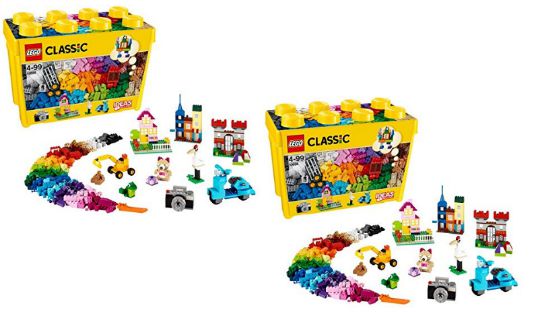 Be quick! This is an excellent Christmas present for any Lego lover. The Lego Classic 10698 Large Creative Brick Box is only £25.54 at Amazon just now. These will sell out at this price as they don't drop under £30 too often. Plus you are getting FREE delivery too. I doesn't even matter if your little one has had this before, as it can be used alongside any other Lego set.
The Lego Classic 10698 Large Creative Brick Box isn't themed like Lego Ninjago, Lego City and so on. It's just a generic set that is for adding on to an existing collection or for starting out.
There are lots of models you can build using the set, and you can either follow the instructions for some basic models like a house or you can make something more elaborate. It depends on where your imagination takes you.
In this Lego Classic set you get a total of 790 pieces in it and it's suitable for anyone from the age of four years old and above. The brick come in an assortment of 33 colours, so the skies the limit with what you can build.