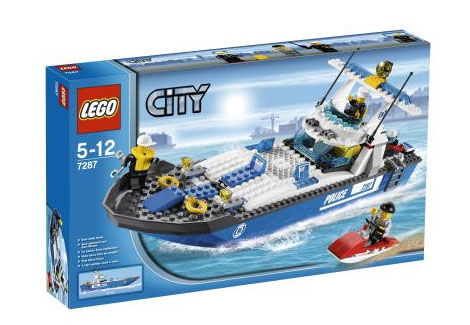 Play are selling this Lego City Police Boat for £16.89 instead of £29.99.
I've had a quick scout around the interweb for you and this is the cheapest I can find it; Tesco are next with £19.97 (if you wanted ClubCard points), Woolworths are selling for £20, Toys R Us for the full £29.99 and Amazon are out of stock.
I'm a bit of a pro when it comes to assembling things like this Lego City Police Boat as my youngest is a HUGE Lego fan. I dread to think how much money me and his dad have spent between us on Lego thus far, so even though he doesn't have a Lego City Police Boat, I'm not remotely tempted to buy one for him.
You must build your Lego City Police Boat and patrol the waters near your home to keep them safe from the bad guys (you already know this is going to end up being played with in the bath don't you...).
In this instance the bad guy is a robber who's trying to escape on a jet ski type and it's up to you to catch him in your Lego City Police Boat, which is suitable for little water cops aged five and over.
Happy Crime Fighting.