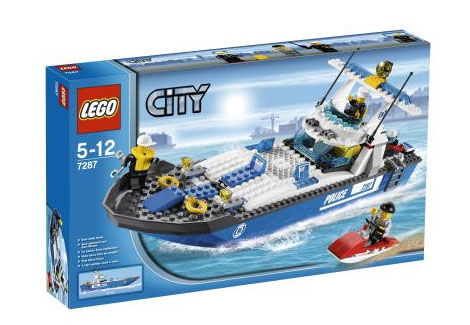 The Toy Shop are selling this LEGO City Police Boat for £14.99, rather than its usual £29.99.
J-u-s-t in case the Toy Shop sell out of LEGO City Police Boats, Amazon are also selling them for £14.99 at the moment; most of the other usual suspects are selling them for around the £20 mark.
Of all the LEGO bits and pieces and sets my LEGO crazy youngest son has, a LEGO City Police Boat doesn't feature among any of it - he'd probably really like one, but then he'd really like anything LEGO.
I must confess I'm tempted to buy one for him purely so I can build it - I'm rather a pro at building LEGO sets like this one and must confess to feeling much satisfaction when they're completed and there aren't any pieces left over!
Once you've built your Lego City Police Boat you can patrol the waters near your home to keep them safe from bad guys (you already know this is going to end up being played with in the bath don't you…).
In this instance the bad guy is a robber who's trying to escape on a jet ski type and it's up to you to catch him in your Lego City Police Boat, which is suitable for little water cops aged five and over.
If you're local to a Toy Shop, or you have a friend or family member who is, you can arrange to collect your LEGO City Police Boat for free in-store.  Failing that, standard delivery will cost you an additional £3.95.
Thanks to r_casablanca at HUKD