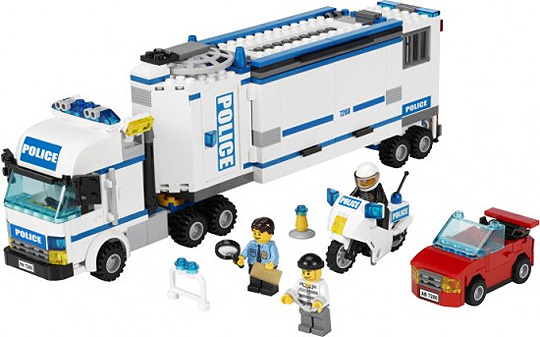 *WOOOOOOO-oooooo - WOOOOOO-ooooooo - NEE-NAH-NEE-NAHHHH!!!* <---------- that's the best I can do trying to spell the sound of a police siren!  Boots are selling the LEGO City Mobile Police Unit for the lowest price I've ever seen it at!!  £18 instead of £41.99!
I wrote about this LEGO City Mobile Police Unit last summer when it was £33.49 instead of £41.99 at Amazon, even they even have never priced it so low! It almost feels like stealing to be able to pick one up at this price; daylight robbery in reverse, in fact!
This LEGO City Mobile Police Unit includes three minifigures: two police officers and one robber, and three vehicles: the Mobile Police Unit, a red sports car (well, it couldn't be anything else really!) and a police motorcycle.
The minifigure police officers are fully kitted out with handcuffs and a magnifying glass, so they can get a bit 'Sherlock Holmes' during their investigations.
The robber has a torch and a gold brick that he obviously stole - they're not the sort of thing you carry around with you on as a matter of course, are they - and the side of the Mobile Police Unit trailer opens to reveal a control centre and has a trailer for keeping detained robbers in; marvellous!
Thanks to Speculator at HUKD