Lego City / Lego Friends Advent Calendar £15.39/£15.99 @ Amazon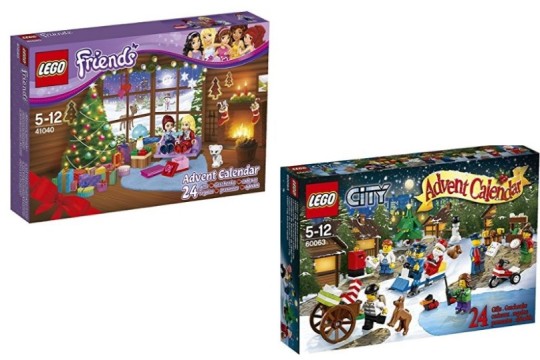 We are storming full steam ahead to the end of September, and before you know it Halloween will have come and gone and it'll be the final countdown to the first of December, and to, well, the countdown to Christmas. Amazon are only to happy to oblige with Lego City and Lego Friends Calendars on sale for £15.39 and £15.99, delivered.
Build the holiday story as you follow Mia on a sledding adventure. Spot the wildlife in the forest on the way to her friend Ewa's house, then help them prepare a delicious Christmas dinner and share in the excitement as they open all their presents. Includes Mia and Ewa mini-doll figures with 24 buildable surprises in a calendar with 24 secret compartments.
I don't even have to look anywhere else. My daughter would be over the moon.
If you'd prefer something a little more unisex though, you may like the look of the Lego City with it's included seven minifigures with assorted accessories: a boy, woman, girl, crook, 2 policemen and Santa.:
Take the boy to post a letter to Santa, build a snowman, visit the Christmas market and go ice-skating with his friend. Play with an early Christmas gift of a duck built from LEGO bricks. Help the police to build an awesome sled to catch the crook who's stolen the presents. Then it's time for a celebration feast, exchanging gifts around the Christmas tree and a visit from a very special guest.
That sounds like a perfect Christmas too.