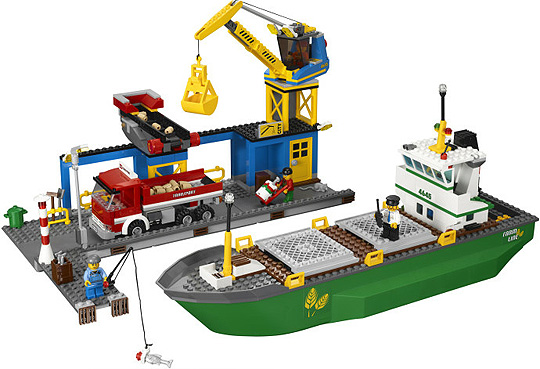 The usual price for this LEGO City Harbour is £71.99, Amazon are currently selling it for £45.95 - I don't trust Amazon and their price changing whatever it is that triggers prices to go up the moment I've written about a good deal, so I'd get over there pronto if you want to take advantage of this one!
It was my youngest's sixth birthday yesterday and in one of my posts I told you he had some money to spend on Lego.  Well, I bumped into him and his dad in Tesco yesterday afternoon to spend the aforementioned birthday cash!
I thought he'd really like the LEGO City Big Truck (it's on offer at Amazon too, by the way, and is heavily discounted in our local Tesco) but I was wrong - apparently it's 'boring' and Star Wars LEGO won the day (and cost me £7.97 because his £20 note just wasn't going to miraculously become £27.97; I'm such a softy).
I wonder if he'd have liked the LEGO City Harbour if it had been on the shelves...?  It looks rather fabulous and comes with lots of bits and pieces:
4 minifigures - fisherman, worker, crane driver and chief officer
Vehicles include large cargo ship, crane and heavy-duty truck
Features conveyor and light tower
Accessories include fishing rod, fuel tank, trash bin, pier elements, trolley, a rat and grain
I LOVE the fact that you get a LEGO rat! I mean, no harbour would be really complete without a little rodent stowing away on board ship or scurrying along the quayside.
The LEGO City Harbour set is suitable for young city builders aged six years and over and comes with a grand total of 554 pieces.
Thanks to paul_merton at HUKD