Lego City Airport £54.74 @ Amazon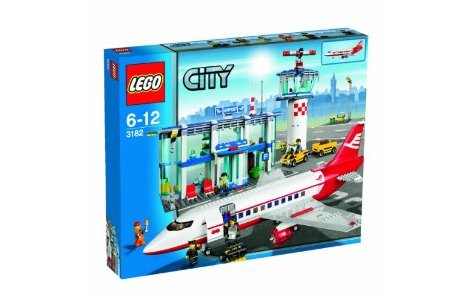 Big Lego sets are notoriously expensive; this Lego City Airport set usually sells for almost £100 but, for now, Amazon are letting it go for half price at £54.74.
I had a quick scout around Tesco, Toys R Us and the other usual suspects, and they're all selling Lego City Airport sets for around £75 (Harrods had it up for £89.95 *snigger*).
I know Lego's LEGO but I really do think big sets like these are generally out of the acceptable price range for most people who are buying pressies for kids. And not necessarily because they can't afford it, but £100 to spend on one present for a child is a bit OTT in general I think.
Anyway, I'll get off my soapbox now and tell you what you get for your half price Lego City Aiport.
In the box are five minifigures: passenger, pilot, flight attendant, steward and service man. Airplane, terminal, control tower, baggage cart, crew, passengers and the doors to the terminal revolve too.
The terminal building measures over 10″ (25cm) long and over 10″ (25cm) tall and the  airplane measures over 20″ (50cm) long and over 7″ (17cm) tall.
Now, we all know what Amazon are like for lifting their prices the moment our deals are written so I've found somewhere else selling Lego City Airport for £54.74.
If you get to this deal and the price has gone up, sneak over to Everingtons and your Lego City Airport from them instead (delivery will still be free as you're spending over £30).