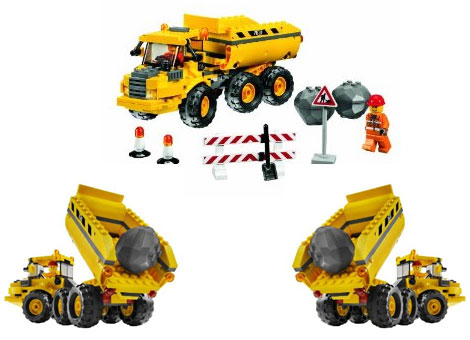 I hope I'm not pushing my luck writing this Lego City Dump Truck deal from Amazon - we all know what they're like for messing around with their pricing the moment I publish a deal - but having been reduced from £14.99 to £9.05, it's too good to pass up.
It's official, I'm an AFOL - an Adult Fan of Lego.
I won't be taking things as far as joining any of the official AFOL clubs but I will always enjoy helping out any youngster, who needs a bit of a hand, to build anything with those multicoloured plastic bricks.
This Lego City Dump Truck looks awesome and I wish my youngest was still rabid about anything digger, JCB or any other construction vehicle because then I'd be able to play with it.
189 pieces make up the Lego City Dump Truck and it comes with a construction site mini figure dude, two 'flashing' warning bollards (they don't really flash), two big boulders to put in the back of your dump truck and various warning signs so you don't get on the wrong side of the Health and Safety Executive.
Reviews are excellent too...
"Usual excellent Lego product that kept my 10 year old happy for half an hour building it - hours more fun though when added to the rest of his Lego City models."
"Another product I bought for my boy who loved it. Made it on his own and got lost in the Lego City world. Lego = Happiness"
Thanks to Twinx at HUKD