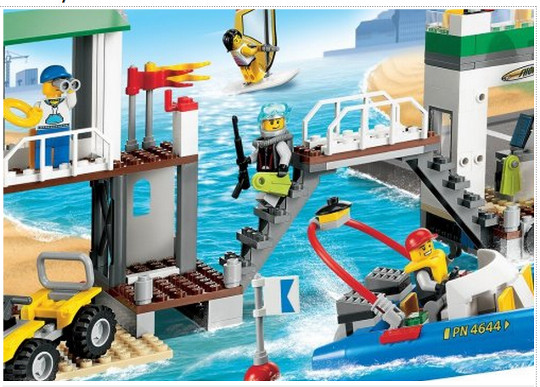 Amazon have a fantastic offer on the Marina LEGO City set at the moment - it's the cheapest it's ever been on Amazon, I believe, with 56% off. It's selling at £18.66 instead of £41.99 and comes with free delivery.
My husband and daughter share a love for LEGO. We have so much of it in the house, I'm in search of larger storage containers! We do not however have the Marina, and to be honest, I'm staying quiet over this deal, because we certainly don't need it.
The Marina comes with 294 pieces, which includes five minifigures - a wind surfer, lifeguard, sailor, diver and a girl. There are also loads of fabulous parts to this set, such as a watch tower, a surf shop and a cafe. It comes with two vehicles - a dinghy and a quad bike - and a host of 'accessories' such as a surfboard, windsurfer, harpoon, scuba gear, four pairs of flippers, three life jackets and so on.
While one reviewer complained that this was too hard for his five year old, another said that his 4 1/2 year old built it with only a little oversight.
Hmmm... on second thoughts... I may have to mention it to the other half after all.
Thanks to cheapstuffrules! at HUKD