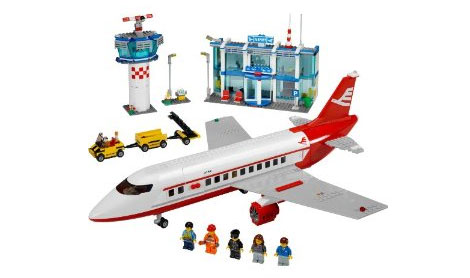 Heads UP! Amazon are selling Lego City Airport sets for £48.95 instead of £81.99.
I would fly too as this is the lowest price I've seen them sell it for, previously it's been around £55.  A quick scout around the internet shows that John Lewis is currently selling this for around £55 and Tesco Direct £82, so grab one of them from Amazon now before they put the price up.
I've written about the Lego City Airport before and, as yet, it's not something I've been able to get my hands on to build - I'd love to though.
In the box are five minifigures: passenger, pilot, flight attendant, steward and service man. Airplane, terminal, control tower, baggage cart, crew, passengers and the doors to the terminal revolve too.
The terminal building measures over 10″ (25cm) long and over 10″ (25cm) tall and the  airplane measures over 20″ (50cm) long and over 7″ (17cm) tall.
If you're not sure whether or not you'll your child will enjoy playing with their own Lego City Airport the glowing reviews should help.
"My grandson was absolutley thrilled with lego Airport for his 8th Birthday....all other gifts were neglected whilst he assembled the airoplane, unassisted. It would not have been affordable at the RRP., but was a shared gift. Items may also be bought to add to it for future presents!!!!! Durable enough to survive and pass on to his younger brother"
Thanks to bargain1979 at HUKD