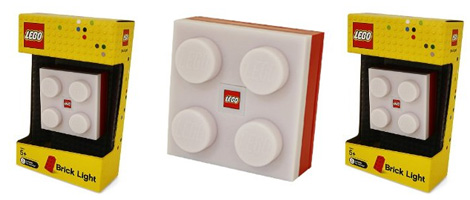 My inner Lego geek is desperate to have a Lego Brick Light!
I feel like Gollum from Lord of the Rings because...I WANTS IT!!!
I loved playing with Lego as a kid - my greatest creation was a windmill that had a little motor which turned the sails - I loved building things out of Lego with the Teenagers when they were small, and I'm utterly smitten with the Harry Potter and Star Wars Lego my youngest has!
I wonder if 'he' would like a Lego Brick Light for his bedroom...?  Or maybe the playroom!
It measures 8 x 8 x 4 cm and has four white LED lights inside.  It can be mounted on walls, under shelves, next to beds or wherever takes your fancy!
It requires 3 AAA batteries (get the rechargeables out!) and Amazon won't guarantee which colour they'll send you.
I'm glad to say it's not just me who's gone ga-ga over this Lego Brick Light, look...
"OMG! The best thing ever.... a rather large square of lego that is a light!! You can put it on the wall or just as a bed side light. Superfab for child or adult any lego fan will love it!!!"
"Gives a lot of light, nice feature is the demo mode when the light is only on while you push the button. Saves batteries while your kids are playing with it. Kids (4 and 2) already asked why the light didn't stay on, we're not telling yet. Also a favorite with dad."
"Maybe this is intended for kids, but I love it! Cute & small - but gives off enough light."
HA! I feel vindicated!
The Lego  Brick Light usually retails for £9.99, but Amazon are currently selling them for £6.99 (please leave the price alone or put it down even more, Amazon!); fabulous!
Thanks to clgay over at HUKD