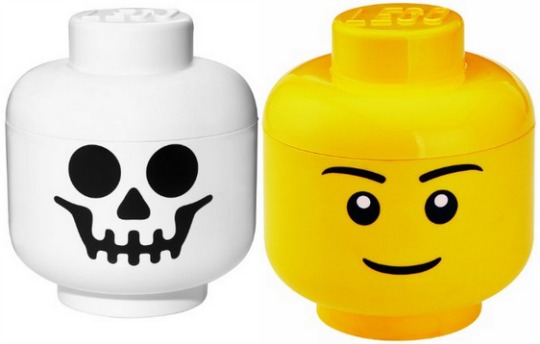 Hands up if you bought the kids Lego for Christmas! That will be us all then. Lego is the one toy I really don't mind buying the kids... it's timeless, it's buildable and they will play with it at any age. So, it really is money well spent. It's agony of mammoth proportions when you have the misfortune of standing on it, and you can buy the kids the most colourful of boxes and they won't tidy it away. Here's the solution, the Lego Storage Heads, kids love them and they are only £12.98 for the Boy and £11.99 for the Skeleton at Amazon.
You might think, yeah, yeah the kids won't use these. Trust me they will! My middle son is bone idle and even he tidies his Lego away into his Lego Storage Head. They look awesome in little boys' or girls' bedrooms and you can collect lots of different faces if you need to.
The Skeleton one is white with black bony, spooky features. Whilst, the Boy one has your bog standard, generic Lego man face. Just like Emmet in the movie.
The postage is completely FREE on these Lego Storage Heads thanks to Amazon's Super Saver delivery.