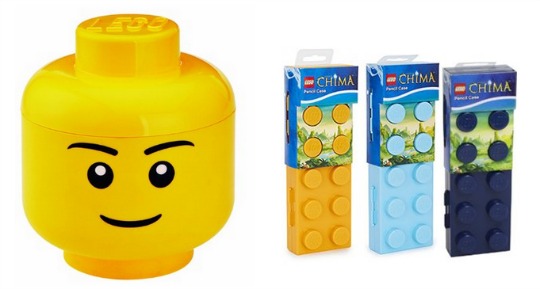 EDIT: The LEGO Storage Head can now be bought online as well! Click here to see it online*.
If you are passing a Home Bargains* store then there have been some pretty fabulous LEGO bargains found, so it's well worth keeping an eye out for them. These are not available online, but have been found in several stores, and I'm hoping that there are plenty about for all you Lego fans.
The Small Lego Storage Heads have been selling for just £4.99 each, and they are normally much nearer £10 in other stores. These have been reported today in Grantham, Beckton, Falkirk, Hartlepool, Belfast and Eastleigh, so they look to be pretty widespread.
Lego Chima Pencil Cases have also been bought for £1.99 each, when they have an RRP of £7.99. They were in Alfreton, Fleetwood, Eastleigh, and Hartlepool.
Other Lego items that have been found in Home Bargains stores today are Lego Friends Pencil Cases for £1.99, Luggage Tags for 99p and Rubbers for 49p.
These Lego bargains are going to be snapped up as soon as the stock is put out I would think, so if you are near one tomorrow I'd have a quick look. Lego can be so bloomin expensive that when you see things at these prices it's a good idea to stock up for birthdays, party presents, and even Christmas.
Good luck Lego fans, hope you find some!
Thanks to alici @ HUKD