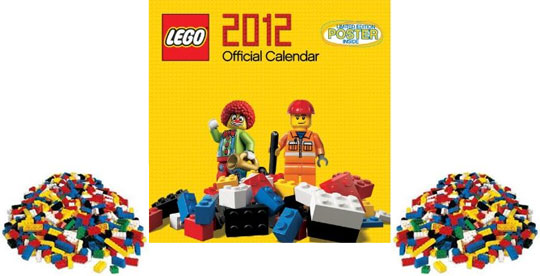 It's calendar time again and whilst I'm sorted with my Gruffalo 2012 Calendar, my youngest is after one of his own.  This year he wants to document his hectic social schedule (and it is hectic too!) on his own calendar; as he's a mad LEGO fan I'm thinking that this LEGO 2012 Calendar will fit the bill nicely.
It's usual retail price is £9.98 but, at the moment, Amazon are letting it go for £5.99 - half price, near as damn it.  Aside from it being LEGO which is, of course, worth a stack of parental brownie points this calendar will also help my son support his numbers, days of the week and months of the year learning.
It will also help him learn how to spell the names of family members by adding their birthdays to his LEGo 2012 Calendar, along with the things he does after school like, film club, football, swimming.  Anything that encourages reading, writing and learning gets a thumbs up in my book.
Of course, if YOU'RE the LEGO fan then you'll probably love this LEGO calendar just as much too.  There's not really much I can say about it that isn't blindingly obvious, but just for fun...
This LEGO 2012 Calendar has 12 pages and a front cover which, combined, feature 13 pictures of LEGO models and characters to help you keep track of all your events, birthdays, anniversaries, meetings and appointments coming up in 2012.  It also comes with a limited edition poster too; hurrah!
There!  How was that? The Supersaver delivery option is available so you don't have to pay anything to have your LEGO 2012 Calendar delivered.
Happy 2012 (even though it's somewhat early for all that Happy New Year stuff!).