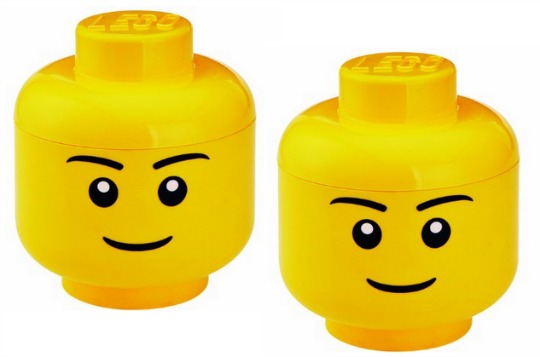 Lego fans will go daft for these, big or small. The LARGE Lego Storage Head is a sought after piece of Lego Merchandise. Why? It's a giant Lego Head with a function that's why. We bought these at Christmas and they went down a storm. They are just perfect for storing all those ouchy-on-the-feet little pieces and they look great as an ornament. Amazon are selling them for the bargainous price of £11.29!
The Large Lego Storage Head comes in a smaller size too at the more expensive price of £11.99 and can be found here*. It's suitable for children aged three years old and over.
Think how cool you will look if you give these at birthday parties. Yeah, you will be the coolest mum ever. Although, you had best buy your own child one too.
These store quite a substantial amount of Lego bricks and the kids will actually put their Lego away with this. So, it's worth the £11.29 not to stand on stray Lego which is flaming agony.
Remember, delivery is FREE as this is over Amazon's £10 order rule.
Thanks to StickS @ HUKD