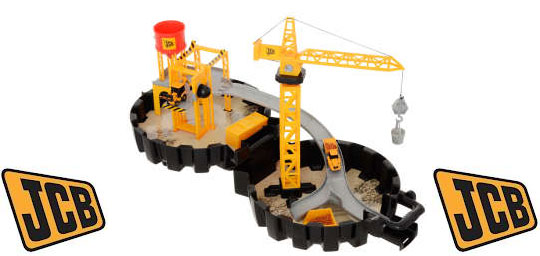 I don't think your boy will need to be a JCB fan to have a LOT of fun with this JCB Packaway Tyre playset - in fact, I think I'D have lots of fun messing around with it, especially as those lovely folks at I Want One Of Those are selling it for £7.99, rather than £25.99.
What we have here is a JCB Construction Site playset split over two levels. It features a large crane, roads and ramps and comes with two scale replica 1:64 diecast vehicles, this is the important bit - a JCB Backhoe Loader and JCB Dumptruck and when you've finished playing with everything it all folds, and packs, away away into a JCB style tyre.
Tell me that won't sound marvellous to any young lad (or lass, if she's into this sort of thing) and not provide them with hours and hours of construction imaginative play!
I love that everything is self contained and packs away into itself - it makes life SO much easier, let alone increases the likelihood of everything staying together and complete.
UK delivery is free, so £7.99 is going to be your total outlay for a JCB Packaway Tyre playset; marvellous.
Thanks to missgem at HUKD