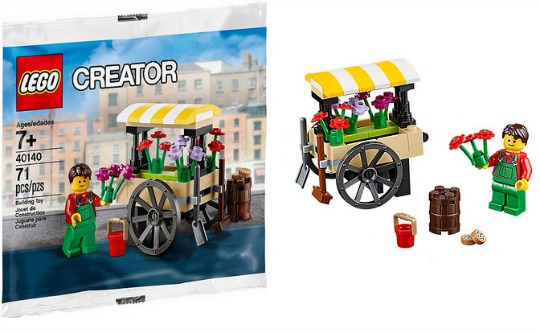 The Lego Shop Sale starts on January 1st, with up to 30% reductions on sale items, and the added bonus of an Exclusive Free Gift of the Lego Creator Flower Cart pictured above when you spend over £50.
30% off may not seem a huge amount compared to all the half price toy sales on at the moment, but as we all know Lego is a little different. It rarely gets reduced by a big amount, and some of actually goes up in price after a while as they become collectable or discontinued, so this is a really good reduction.
Although we don't know yet what sets are in the sale, if you have a fan to buy for, or are a fan yourself, it's a good idea to take a look on New Years Day as early as you can to see if any of your favourites are included.
January 1st is also a big day for the new Lego Sets to be released, and over 100 new items* are becoming available for the first time. I'm loving the look of the Princess Sofia sets myself, and we already know about Elsa's Ice Castle (now out of stock until February!).
Can't wait to see what's going to be in the sale! (Please be minecraft!)
Thanks to goonertillidie @ HUKD.