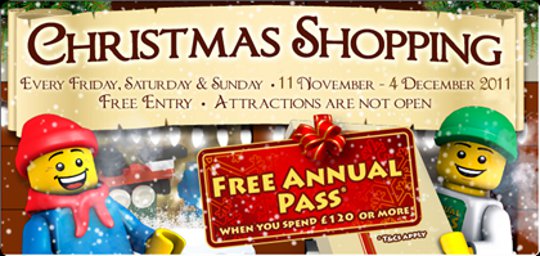 There's a free Premium Annual Pass up for grabs at Legoland Windsor when you spend over £120 on Lego at the shop on site. As you can imagine there are a plethora of terms and conditions, but that's kind of to be expected with such a lovely freebie.
We bought standard annual passes just a month ago and didn't realise that Legoland actually shuts for 5 months of the year! Add that to all the 'exclusion days' that you can't visit with a standard pass, I did wonder if we should get a Premium pass at the time. On reflection though, we realised that since neither of us like crowds, and aren't likely to go on the crazy busy days anyway, the Standard pass was probably sufficient for us.
We did end up spending over £200 on Lego in the shop, however, so I'm a bit gutted that we spent all that money at that time, when we could easily have grabbed two free passes instead – and at least saved on parking when we do visit again.
So those T&C's?
The offer is valid for a Legoland Premium Annual Pass, or can be used towards a Merlin Annual Pass – which is a massive saving on the Merlin Pass!
Your qualifying purchases must be from either the Lego Big Shop or Funky Fashions. You can shop in multiple transactions from either, but your purchases must be completed on the same day.
There's a bit more you should know, socheck out the full conditions, but I really think it's a great deal and will wait in hope for it for next year!