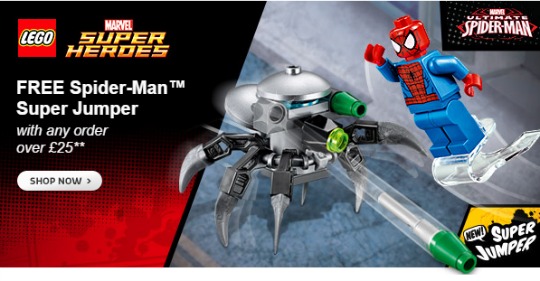 This is a fab gift from The Lego Shop for anyone who like Spiderman - and that's everyone right? When you spend £25 or more at The Lego Shop you get the Lego Spiderman Super Jumper set for free! If you are buying online the item in added to your basket automatically when you add items that come to £25 or more, so it's nice and easy and there are no codes to enter.
The free set is all the things in the picture above, not just spidey himself, and the set cannot be bought separately. The offer is available at the official Lego Shops both online and in stores, but not in other retailers that sell Lego products.
It's also worth noting that although Spiderman is part of the Marvel Super Heroes range, you don't have to buy from that range to get the gift, just spend £25 on anything from The Lego Shop.
The free Spiderman Super Jumper Set offer has started today, and is on until 31st May and only while stocks last, so grab him while you can!