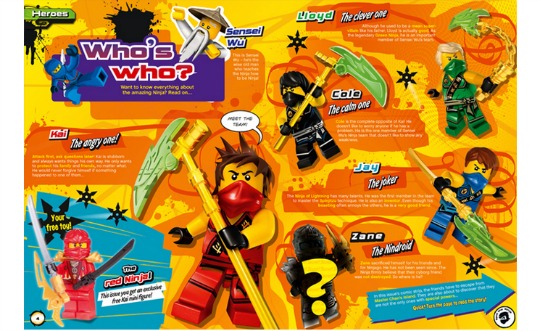 If you know any Lego Ninjago fans then there is a new Lego Ninjago Magazine that's out now, and you can download a free sample to see if your kids will like it. (They will!) All you have to do is use the link below, click where it says "Download your free sample" and just download and print.
It's 8 pages from the magazine, with a comic strip, poster, competition, quiz and character guide. Even if your children aren't Ninjago fans then this should keep any Lego fans happy for a while, and it will only cost you the paper and ink for your printer.
If the kids start nagging you to buy the magazine itself then it's priced at £3.25 for each issue, but you do get a free gift with each one (the first is a mini figure and stickers) and it's out every 6 weeks, not every month, so value wise it's not that bad for a character magazine.
Make sure young Lego fans are signed up for their FREE Lego Club Magazine* direct from the Lego website as well. It's a great publication, with tons of activities, posters, stories and games and you get it absolutely free just by registering here*.