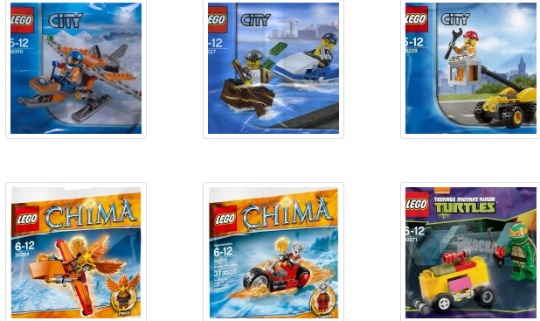 It's back! This promo has always been popular in the past and it's running again between September 20th and September 27th. We'll remind you nearer the time but for now make a note in the diary. Pretty awesome stocking fillers for the cost of a newspaper here.
This time around the eight bags will be :
30310 City Arctic Scout
30265 Legends of Chima Worriz Fire Bike
30271 TMNT Mikey's Mini Shellchaser
30264 Legends of Chima Frax Phoenix Flyer (subject to change)
30227 City Police Watercraft
30281 The LEGO Movie Micro Manager (subject to change)
30229 City Repair Truck
30244 Anakins Jedi Interceptor
As usual you'll have to cut your token out of the newspaper and exchange it in store at WH Smith (possibly Toys R Us too) to receive your free Lego. Going by previous promotions you have to be there nice and early to bag your freebie as each store has a limited number of sets and they tend to go fast! You will also be able to send off for them too but there's no details at present about any p&p costs on this option.
What do you think? Going to try for all eight sets?
Thanks GTID!