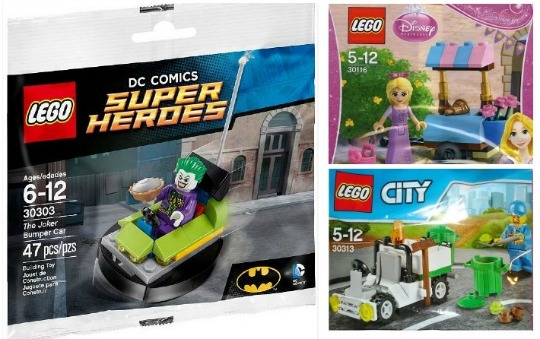 Confirmed-this promo will run from the 16th until the 24th of May!
This is advance warning for the next Daily Mail Free Lego Promotion, that we know is scheduled to take place in May. Although we have details of the Lego sets that we have been told will be given away, the date is yet to be confirmed. It's normally around the May Half Term, so the best guess in 22nd May at the moment, but it may be earlier to coincide with the Lego Simpsons Minifigures Series 2 launch. When dates are confirmed we will let you know.
For those of you who are new to the madness that is Daily Mail Free Lego, this is how it works. Every day during the promotional period the Daily Mail / Mail On Sunday will print a voucher in the paper that you then take to a WH Smiths or Toys R Us to collect your free toy. That's it, nice and simple.
Here are the sets that are expected to be included:
30272 LEGO Star Wars A-Wing Starfighter
30283 LEGO Creator Off-Road
30284 LEGO Creator Tractor
30293 LEGO Ninjago Kai Drifter
30303 LEGO Super Heroes: The Joker Bumper Car
30311 LEGO City Swamp Police Helicopter
30312 LEGO City Demolition Driller
30313 LEGO City Garbage Truck
30116 LEGO Disney Princess* Subject to change.
The paper costs 60p on weekdays, 90p on a Saturday and £1.50 on a Sunday, so even if you are just buying the paper for the Lego you are getting a great offer, as the Lego sets that you can pick up are the ones that normally have an RRP of around £5. You have to collect the Lego set on the day that the voucher is issued, you can't save up the vouchers and collect them in one go.
It's strictly one toy per voucher, so if you have two children who will want the Lego, you need to buy two papers. There are in store policies limiting the number of vouchers that each customer can redeem, but even with those limits in place there are some stores that will run out of Lego very quickly, and it's first come first served.
If you're just going to buy the Daily Mail for the Lego and have no intention of reading it, please remember to  recycle. :)
Thanks to FantasyDeals @ HUKD