Exclusive LEGO Marvel Super Heroes The SHIELD Helicarrier: Pre-order @ The Lego Shop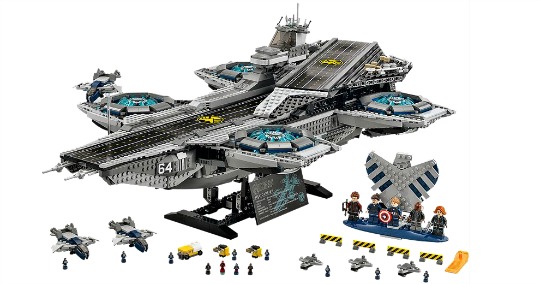 This is not a deal. Not in any way. This Lego set is the full RRP, not reduced at all. BUT for any Lego fans this is just to share how magnificent this new Lego set is, so that you can gaze upon it in awe... then faint at the price tag.
The Lego Marvel Super Heroes The SHIELD Helicarrier is available for pre-order exclusively at The Lego Shop online, with an expected due date of 6th April. It has 2996 pieces, and is recommended for ages 16 and above. Yep, not for kids this one.
You get to build the huge Helicarrier with its two runways, microscale jets and ground support vehicles. There are 12 microfigures to display in the decks and the interiors, along with loads of teeny accessories. You also get 5 normal sized minifigures:  Nick Fury, Black Widow, Captain America, Hawkeye and Maria Hill.
This is a set that you don't want to let the kids near once you've built it, you'll have to cragle it together and keep in the basement. It's £269.99.