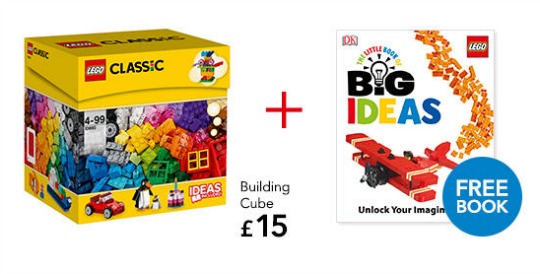 Asda George online have a great Lego offer on at the moment. When you buy the Lego Classic Building Cube for £15, you get the Lego Little Book Of Big Ideas for FREE!  The book is normally worth £2, but the price gets changed to free when you add the Building Cube to your basket.
The Lego Classic Building Cube is a great starter for those new to building Lego, as it has nearly 600 pieces of varying shapes, sizes and colours, including pieces with eyes and some wheels. There is a leaflet that comes in the box with some ideas, and the box itself is a sturdy cardboard one that is strong enough to keep as storage for the pieces.
The free ideas book has new ideas on how to build aeroplanes, safari animals, spaceships, an ice cream van  and loads more. Sounds awesome. ;)
Home delivery charges are from £2.95, or you can click and collect for free.