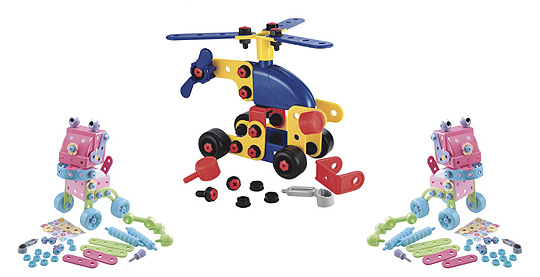 The Early Learning Centre have some nice discounts on Build It Nuts and Bolts toys at the moment (think chunky plastic Meccano), prices start at £10 and go up to £20 for items that are in stock - but be warned, plenty have already gone out of stock and I'm sure the rest won't be too far behind.
I love toys like these Build It Nuts and Bolts toys - there's something very satisfying about playing with something you've put together with your own fair hands (I wonder if that's also why I like finding things to buy from Ikea!).
All of the Build It toys are suitable for kids aged three years and over (small parts hazards you see) and there are models for both boys and girls.  The Build It Nuts and Bolts Crazy Copter looks rather awesome - £20 instead of £25 - it has lot of bits and pieces to put together, which will keep little hands busy for a fair while.
There's this Build It Nuts and Bolts Create set for girls - although I suppose boys could play with it, if they didn't mind the pastel colours - which is £20 instead of £40.
There's a car, there's a plane or jet and a firefighter still left in stock (at the time I'm writing this) and free delivery applies to anyone living within the UK, Northern Ireland and the Isle of Man.
Happy Building It!