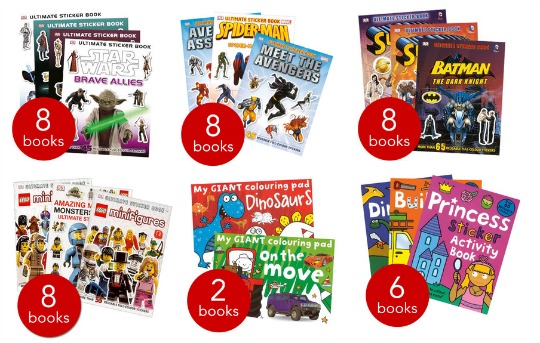 Half Term is looming and to help you keep the children entertained if they are stuck indoors then activity book with stickers, games and colouring are so helpful. The Book People have a really good range with loads of big brands like Lego, Star Wars and Hello Kitty, and when you spend £10 today you get free delivery with the code DEL10.
The activity book collections offer the best value, like the Lego Minifigure*,  Star Wars*, DC Superheroes*, or Marvel Superheroes* ones which all have 8 books for £7.99! That should keep the kids happy for quite a while!
There are also Giant Colouring Pad packs with Dinosaurs*or Animals* and these are £4.99 for a set of 2. The massive Doodle A Day*pad is really popular too, as it has so much packed into it - a years worth of pages for £3.99 in fact.
There are also activity books with Hello Kitty, Star Wars Rebels, Dr Seuss, Fairies, Pirates, Dinosaurs, Princesses, Animals, and loads more.
Some of these activity books might be a great idea to pop in your suitcase for your holidays too for those boring delays, or long journeys.
Delivery is free over £25, is £3.95 below that, or you can get free delivery over £10 TODAY with the code DEL10.