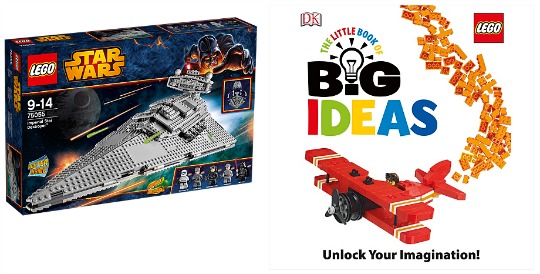 There are tons of offers around for Star Wars Day tomorrow, and if it's LEGO Star Wars you are looking for then Asda George seems to have the best deal. They have reduced the price of their LEGO Star Wars sets by up to 30%, and with every LEGO purchase you also get a free LEGO Ideas Book. The book is added automatically to your basket when you add any LEGO set, and it's one book per set rather than one per order.
As there are so many different offers on Star Wars this weekend I would still advise running a quick price comparison on the set you are considering. For lots of them Asda is the cheapest, including the whopping Imperial Star Destroyer which is £16 cheaper than anywhere else! Toys R Us and The Lego Store also have reductions of 20% and 10%, and they both also have a larger selection to choose from.
Asda never say when the offers are ending, but most of the Star Wars offers are due to end on the day itself, which is tomorrow.
Click and collect is free, or home delivery is from £2.95
May the 4th be with you. ;)