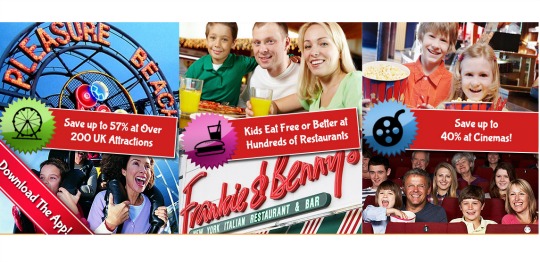 Have you heard of Kids Pass? Basically it's a discount scheme where you pay for a card up front that entitles you to a variety of discounts at cinemas, restaurants, theme parks, attractions and so on. The card usually costs £59.99, but with the code TDKP2015 you can get the Kids Pass for £19.99 instead!
How much you can save with the card will depend on how many times you use it, but if you go out regularly as a family the savings could be huge. The Kids Pass offers discounts of up to 57% off at over 200 attractions, including 22 Theme Parks, 56 indoor attractions, 34 outdoor attractions, 13 go karting centres, 13 aquariums and many more. The Kids Pass will also give up to 40% off at over 300 cinemas nationwide and Kids Eat Free offers or discounts at hundreds of restaurants nationwide.
Discount: £40 Off, making the Annual Kids Pass £19.99
Expires: 31st December 2015
Code: TDKP2015
The best thing to do is pop over to the Kids Pass website and search by region to see which attractions, cinemas and restaurants in your area (or the areas you will be visiting over the next 12 months) to see if the discounts you would be getting will add up to more than the £19.99 you are spending out on the Kids Pass.
You don't need to get separate passes for each child either - one pass covers the whole family. Have fun!