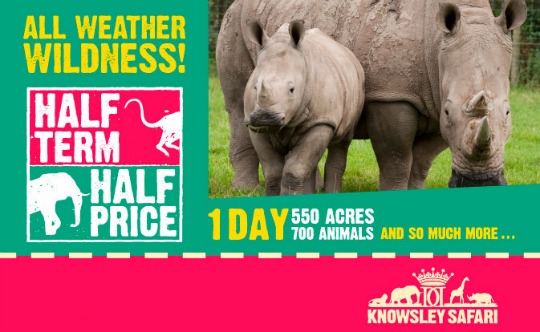 If you are looking for half term activities and are in the North West of England then our always wet weather can rule out a lot of outdoor activities. Luckily you can still drive around Knowsley Safari Park even if it is wet and cold, and for this half term holiday they are offering half price tickets too!
The offer runs from today Saturday 24th October until 1st November, and makes the price of entry just £6.25 per child and £8.25 per adult. Compare that to the price of a similar day out, especially over the school holidays and I think that offers great value for money.
The offer is available both online and at the gate so you don't need to advance book for this offer, and you never know we might even get some sunshine to make it even better.
Just a reminder for those who are worried about their car getting trashed - there is an alternative route around the safari park that involves bypassing the monkey enclosure altogether, so your wing mirrors and windscreen wipers can remain intact!