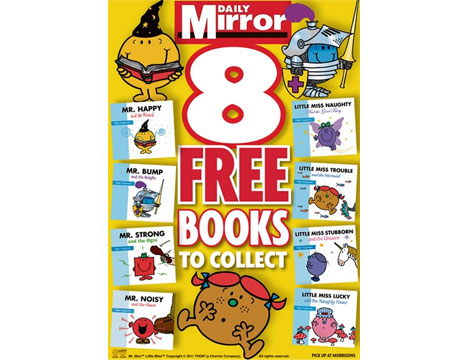 OH! I almost feel dirty just writing the words Daily Mirror *shudder* (I can control most things, but my newspaper snobbery is not one of them)
I know it's a little break from the norm but you're going to have to step outside into the big wide world to get these free Mr Men and Little Miss books.
Worse than that, and I'm SO sorry, you're going to have to bring yourself to buy the amazing piece of journalistic literarture that is the Daily Mirror today, the Sunday Mirror tomorrow and then a copy of the daily again every day next week.
BUT, it'll be worth it if you have a Mr Men and Little Miss fan in your household because the titles they're giving away are NOT available in the shops.
Today's book is Mr Happy and the Wizard and tomorrow, Mr Bump and the Knight. The free Mr Men and Little Miss books schedule for next week looks like this:
Monday - Mr Strong and the Ogre
Tuesday - Mr Noisy and the Giant
Wednesday - Little Miss Naughty and the Good Fairy
Thursday - Little Miss Trouble and the Mermaid
Friday - Little Miss Stubborn and the Unicorn
Saturday - Little Miss Lucky and the Naughty Pixies
You can claim your FREE Mr Men and Little Miss Books in one of two ways - either go to your nearest Morrisons every day and hand over the token from the paper to Customer Services who will give you your book each time.
OR you can collect  just 5 different vouchers from the Daily and Sunday Mirror and send them with a cheque for £5.99 (ROI is €9.99) to the address they'll print next week.
The closing date is Tuesday April 26, 2011 and you can read all the terms and conditions HERE
Thanks to bluetigermobiles at HUKD