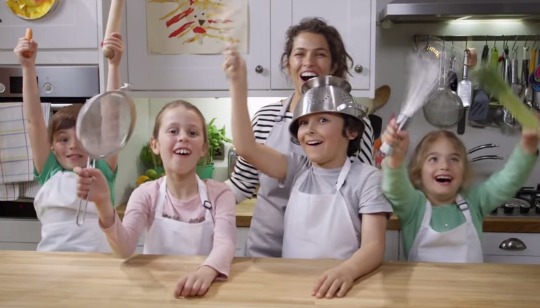 The Tesco Eat Happy Project are already doing lots to help children become more involved in the kitchen, more connected with the food they eat, and mainly helping families to have fun with food. They have free cookery courses running around the country this summer that we wrote about a few weeks ago, and we know that many of you are booked on those with your children.
The Tesco Eat Happy Project is about to start another new venture that is a brilliant idea to keep children entertained over the school holidays - "Let's Cookalong" videos that you can access online, and cook a tasty meal or snack with your kids in the kitchen.
Let's Cookalong will run throughout the summer holidays, and is completely free to use. We'll be posting new videos every week which you can cook along to at a time that suits you, and from the comfort of your own kitchen. Each video is easy to follow and there are plenty of opportunities to press pause if you need to catch up, so you can go at your own pace. There's a mix of meals, snacks and drinks to choose from, so whether you've got an hour or two or just a few minutes, you'll easily find something tasty for you and your children to make.

To make it even more fun, we'll have certificates, games and loads of activities to accompany the videos – that you'll be able to download for free on our website.
Sounds good doesn't it? And to make this fab freebie even more impressive we will be running a competition with prizes from Tesco to make your cookalong even better!
We will be letting you know more about the competition and the "Let's Cookalong" videos very soon, so in the meantime make sure you register here with the Eat Happy Project at Tesco to get email updates.
Looking forward to cooking with you!