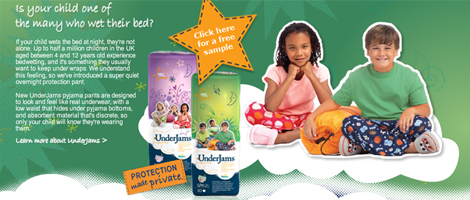 Night time bedwetting accidents are horrible for everyone on so many levels,  not least  because of the upset and embarrassment it can cause your child.
Bedwetting - it's a sensitive subject and we all know the last thing we should do as parents is get frustrated or angry about it.  We've read every 'Bedwetting 101' guide there is and we know the psychology behind it, but at 3am when you're making beds and stripping soaking pyjamas off an upset child it can be difficult to keep all of that in the forefront of your mind.
Pampers have developed 'UnderJams' -  yes another night time pant to confuse and bewilder parents up and down the land.  However, these ARE slightly different from most of the rest currently on the market, although probably not for long.
UnderJams are made from a soft cloth-like material so they don't make that 'give away' rustling sound and they've been designed to look, feel AND fit like real underwear.  They pull on and off and have a low waistband just like ordinary pants (the low waistband - that's the slightly different bit in case you were wondering), they have stretchy sides and are made from breathable material offering maximum comfort combined with maximum protection thanks to its absorbent core with printed desgins and sizes for both boys and girls.
There are 175,000 sample packs being given away so don't dawddle on this one if you want to try them out, along with your freebie sample you'll also receive a coupon worth £5.19 (which is the RRP of UnderJams packs) to redeem against a future purchase of UnderJams.
This offer is limited to one sample per household, you should allow 28 days for delivery and the coupon can only be used at Tesco stores - not really a hardship considering you can't go more than a few miles without coming across one!