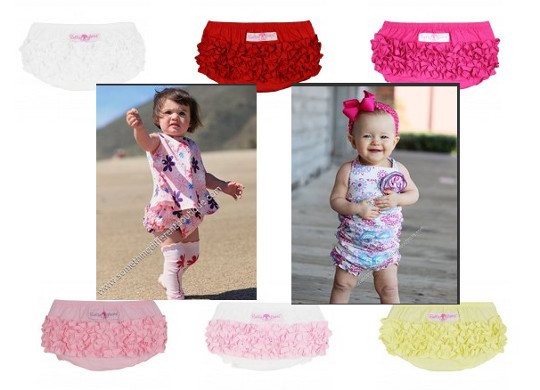 I honestly have no idea why, but there is something absolutely gorgeous about a baby or toddler with ruffles on their buttocks. I've seen tights with ruffles, and I've seen trousers with ruffles, and it's just so cute. When my baby was just a newborn, I came across RuffleButts and I absolutely had to have some! We now have five of them in various shades and colours and we adore them.
RuffleButts are basically nappy covers, and because my baby is in cloth nappies, we've always gone for bigger sizes. My toddler can wear them over disposable nappies, gNappies, or over panties and my baby can wear them over her cloth nappies, so size wise they're perfect for long term wear and very generous - which is a good thing as we've paid from £8 to £16 each. They are made from a lovely, soft material - some are "woven" and some are "stretchy". They are 100% cotton and are wrinkle-resistant.
I really hate the look of disposable nappies, so whenever my toddler is in them, I pop a RuffleButts bloomer over it. This is particularly useful in the summer as she wears dresses and skirts a lot. In the winter, however, you can put tights under the RuffleButts - they also do matching trousers and leggings, but you can use anything really. They do look so sweet.
RuffleButts are from the US and the range available there is amazing, but there aren't as many available in the UK - but still enough to swoon over and keep adding to the collection!