Persil Small And Mighty Cleaning System Review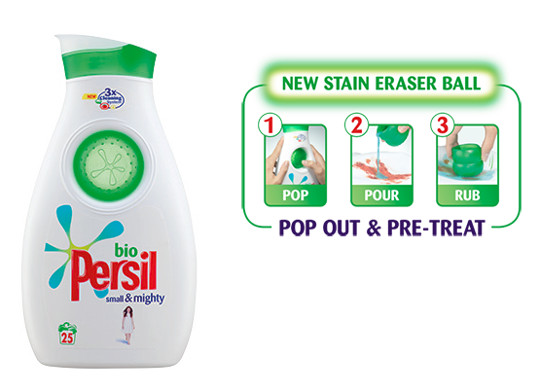 Have you noticed that I'm pretty much a sceptic by nature? And that I rarely believe marketing? Well, I was very sceptical of the Persil Bio Small and Mighty when I first opened it up.
The fact is washing liquid is washing liquid and in competing with each other, companies have to come up with one gimmick after another to make us choose their brand, so when I saw the studded rubber cup in the middle of the Persil bottle, I was rolled my eyes a little.
The idea with this studded cup is that you can use it to agitate stains right out of clothes, and with two small children, it's fair to say that we often have paint, food, blackberries and any other combination of stains on their very beautiful clothes, so I was willing to try it out.
In fairness to other brands I should say that we usually use soap nuts or eco balls on the children's clothes, because even 'skin safe' or 'allergy tested' or 'British Skin Foundation approved' products normally give at least one of the three of us terrible eczema, so for the most part, we stay away from perfumed, chemical cleaners. Unfortunately, however, those don't always clean the clothes entirely and they definitely do nothing for stubborn stains.
So, I thought I'd give Persil a fair try, and I must say I'm impressed.
As soon as you open the bottle, the heady perfume hits you - it's definitely a 'clean laundry' smell. The pourer is funnel shaped, which is quite nice because it prevents the gel like liquid from going all over the place, and keeps it in a concentrated stream which is particularly useful when you're pouring it into the little cup.
You can pour some on your stained clothes, then pop  cup onto the stain and gently agitate it so that you don't stretch the clothes, but it's like a lot of little fingers rubbing up and down so it works pretty well.
I popped our non-washable paint stained Mini Boden dress that I hadn't wanted ruined into the washing machine and lo and behold, it came out of the wash stain free. I think I'll try it on a blackberry stain next.
I still prefer, for our skins and the environment, to use the eco balls as our regular wash, but for stains and perhaps nappies I am really happy with this Persil Small and Mighty because it does what it sets out to do, and saves me buying new unstained clothes all the time.