Kids' Clothing Starting From 99p Plus Spend Over £5 Off With £20 Spend (With Code) @ Bargain Crazy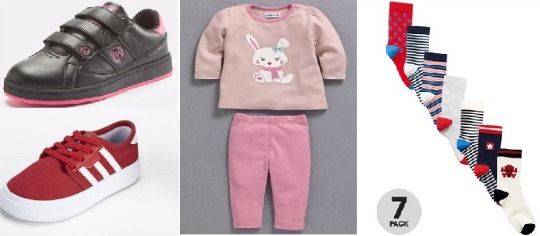 Bargain Crazy is another one of those sites where you will find heaps of "junk" but have a good rout around and you will find true bargains. You know the sort you don't find very often. Thankfully, us lovely Playpennies girls have done the routing for you, keep reading to see what goodies we have found. Plus they are running these offers, spend £20 and get £5 off using code W5, or spend £40 and get £10 off with code W10, or spend £100 and get £25 off with code W25. Just enter your code at the checkout.
I absolutely LOVE finding kids clothing and shoe bargains because let's face it, we are always having to replenish them. It's not a cheap affair but it can be if you keep your eyes peeled or visit us frequently. Bargain Crazy sells catalogue clearance stock from Very and Littlewoods. Their kids clothing range starts at only 99p, not bad at all. Not to mention that they sell branded clothing and shoes too.
I found these Adidas Seeley Infant trainers* that were £40 apparently (you'd have to be nuts!) but are now only £9.99. They are only available in a size 4 and 5 but are a real good buy. For only £3.99 you can get a 7 pack of socks for girls* or boys*.  Socks are always needed and for this price, you certainly can stock up.
They sell brands like Mamas and Papas, check out this girls floral dress here*, for only £7.99. It had been £26! It would be gorgeous with thick tights and a lovely pair of leather boots for this time of year.
Do have good nosey, and see what you can find. Sizes are limited due to the nature of the site and the low prices but there's plenty of choice. Remember to use codes W5, W10 or W25, if you are spending £20, £40 or £100 and you will get extra money off. Delivery costs £3.95 no matter how many clothing items you order.