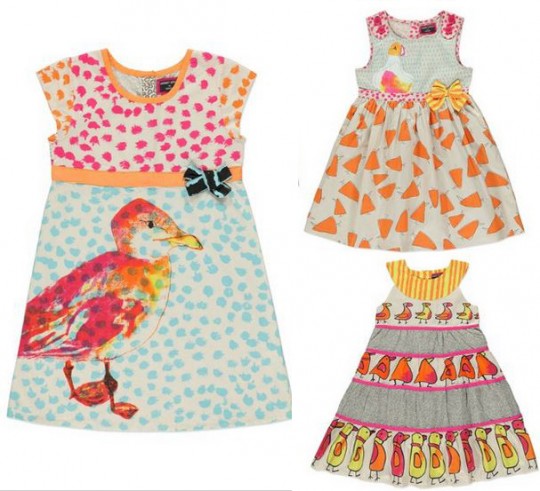 Like most of us, I've bought clothes from Asda's George *  collection in the past, and while they are functional, you know when you're buying clothes from there, you're not buying something you hope to keep forever. It's never been something I actually search the closet for when we're going out. I've never loved what we bought from George. Until I received two dresses for each of my girls from the Harriet Simons range (of eleven), and that all changed.
Harriet Simons was the Childrenswear award winner of  Graduate Fashion Week 2012, sponsored by George. Her range is a summery, bright, breezy collection designed for girls aged 18 months to 6 years, featuring birds in various ways.
Unfortunately none of her designs are available online anymore, and you'll probably only find them in the clearance section of Asda at this time of year, but I'll tell you about them anyway, as they are so lovely. 
My girls are generally well dressed. We've been really blessed with their wardrobes, getting a lot of really good stuff from family and friends over the last few years. They are regularly complimented anyway, but every time they've worn these dresses, they have received comments about how lovely their dresses are. When I've told mums they're 'just George dresses!' they've been as surprised as I was.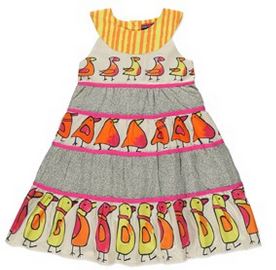 We received the All Over Bird Print dress, which was my favourite of the two. Would you believe this cotton dress is even lined with a cotton lining? It is a tiered dress, which gives it lovely twirling power, something my oldest child relished. She spends a lot of time twirling anyway, so she figured this made it a princess dress. I particularly liked the halter neck style shoulder strap neck line - I have no idea what the technical names for these things are - it was bright and unusual and looks like the sun.
I have a hard time conceptualising yellow, orange and pink in the same outfit, but it really works so well in this beautiful dress.
The biggest surprise, however, is the price. It's an £8 dress for both my 17 month old and my 3 year old. It's not a lot for what you're getting, and I would happily pay that price for it again.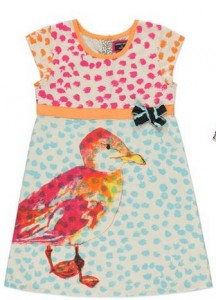 The Printed Cotton Shift Dress is what my mother would have called an A-line dress, I'm sure. It uses similar colours, which was nice for dressing my girls in different, but complimentary dresses, making for great impromptu photo.
This dress has a rounded neck line, and a bow under the bust, leading to the A-line skirt. It is really very pretty.
The colours are similar red, orange and pink, but with a lot of blue thrown in. It really is lovely.
My youngest has undergone a huge growth spurt this summer and when we received this dress, it was just above her knees. Now, a few months later, it's really short - too short to decently be called a dress. As we go into Autumn, and I think these are gorgeous Autumn colours, she'll be wearing it with tights as it will make a nice long top too.
This dress is also £8, which is way, way cheaper than it looks like it should be.
Both dress styles have held up really well to washing - cheap clothes normally don't - and have retained their shape. They dry perfectly without requiring ironing, so long as you hang them out as soon as they finish washing.
There's no information on the website as to whether Harriet Simons will be doing more outfits for George, but I do hope so, because at these prices, they'll be well worth buying. They are so lovely I'll be saving the bigger dresses for my little one to wear again in a year or two!
I will say too, that this collection has encouraged me to give George clothing a second chance. I'm pretty sure that I'll stop in next time I pass by an Asda and have a look at what else they have. I'll be chuffed if I see more from Harriet Simons in store, but more importantly, I suppose, if the rest of what's available at George is as good as these beautiful dresses.
The Good
The Harriet Simons collection of girls clothes is beautiful

It is really good quality

Some of the dresses are lined, which is so unusual in cheaper outfits

They're cotton, which is always a winner for me

The price point for these is pretty amazing, I think. 

They look designer - which they are - but don't cost it. 
The Bad
I'm not sure where they are made, but I hope it's in good conditions and ethically. I can't really think of anything bad about the clothes themselves.
The Verdict
Would I buy them again? Yes. Would I recommend them? Yes. Will I be going into Asda to see what else they have that's similar? Definitely.