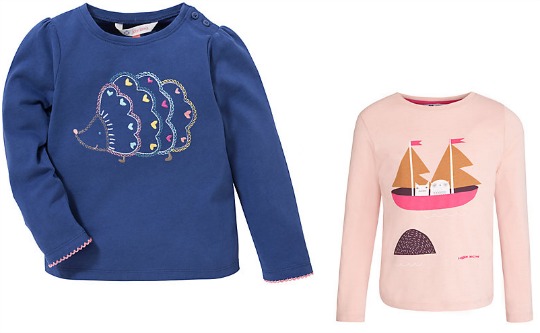 If like me you try your best to get the best quality clothes for as little money as possible, you will like when John Lewis has a sale on. They have a little sale on just now, actually it's more like a seasonal clearance, but who cares what it's called, as long as there are bargains. Items start from just £2 and there's an impressive selection. I say have a look and you may see something you like.
Got a baby? You need to check out these: John Lewis Beige Corduroy Jacket* was £18 now £9,  Five Sleeveless Bodysuits* was £8 now £5, Frugi Baby's Discovery Top* was £18 now £9, John Lewis Marl Stitched Deer T-Shirt* was £10 now £5 and John Lewis Pink Quilt Gilet* was £18 now £9.
The Girls' Clothing* selection is great too with bargains like these: Kid's Company Polka Dot Parrot T-Shirt* was £6 now £5 and John Lewis Contrast Denim Dress* was £20 now £10.
There are plenty of reductions on Boys' Clothing to and they can be found here*.
You can collect your order from any John Lewis or Waitrose store for FREE or pay £3 for home delivery.