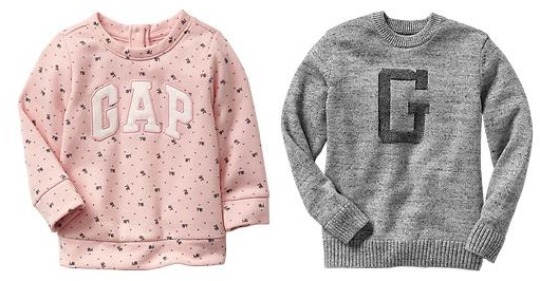 GAP have yet another clothing sale on. I had a quick scout just to make sure,  that they hadn't drudged out all of the unsellable stock again. There's a few bits from the previous sale, but lots of fresh bargains to be had. Items start at just £1.99, so it's certainly worth a look.
I am ALWAYS drawn to girls' clothes first, even though I don't have a daughter. Here's the items that caught my eye from the girls' section: this three pack of Fox socks*, are now only £4.99, down from £6.  Who says dresses are for the summer? Check out the Herringbone Zipper dress*, at only £13.99 now. Nice and thick material for winter wear.
Okay, here's the boys stuff: Varsity Logo Sweaters* are smart, and now only £14.99, down from £24.95. Ideal for the cooler weather. These 1969 Straight jeans* also caught my attention, Available in numerous different colours, my fave is the mocha.
Sometimes I can't bear to look at the baby sections of sites, because I can't help but buy. Baby GAP is one of my favourite brands for little tots. Only £10.99 for this Floral GAP Logo Sweater*, it's pink, girly and cosy. What more can you ask for?
GAP also cater for toddlers, you can find the sale stock for boys and girls, here* and here*. Delivery costs £4, and there is no collect in store option.