Baby Christmas Clothing @ Asda George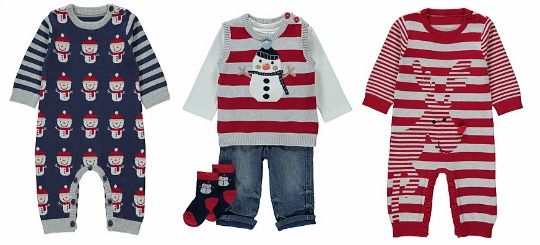 Do you dress your children in festive clothing at Christmas? I do, in fact I try and make all four of my boys match! I know, cruel parent alert. There's nothing cuter than dressing a baby up for their first Christmas Day. Asda George have a super selection of Baby Christmas Clothes at the moment and it's anything but expensive.
We are just loving this TWO pack of Christmas Bibs* for just £3. You get a Santa one and a cute little Elf one too. Just imagine your little one guzzling their Christmas Dinner Bottle with one of these on. It's an ideal finishing touch to that Christmas outfit.
Talking of Christmas outfits, you can't go wrong with this FOUR piece Christmas Tank Top, Tee, Jeans and Sock Set* for just £15.
Just after a Christmas Jumper? This Knitted Reindeer Baby Christmas Jumper* can be had for only £7. Or get an All-in-One Christmas Knit, here* for £8.
You can Click and Collect your Baby Christmas Clothing items for FREE from an Asda store near you or pay £2.95 to have them delivered to your front door.