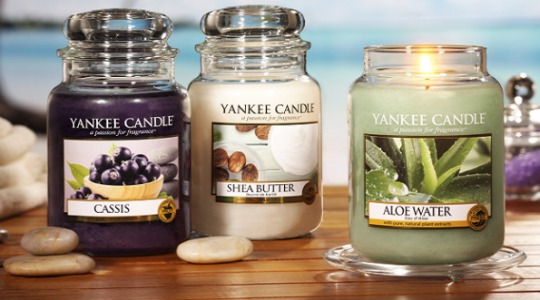 There's nothing better than walking into a room that smells clean and fragrant. I remember reading that smells evoke memories more so than visual components. If you think about it we all used our sense of smell first, we recognised what mummy smelt like and so on. I think that's why candles like Yankee Candle are so popular. We know you guys can't get enough of that soy melt goodness so when we saw that they had released THREE new scents for 2015, we just had to share!
You now have three extra Pure Essence fragrances to choose from: Cassis, Shea Butter and Aloe Water. For me, two out of three of those are "foodie" smells. Shea butter for me, has an almost chocolatty smell, and Cassis is the scent of blackcurrants. I haven't had the good fortune of getting my hands on any of these yet so I am just going by what I know these items, that they are named after smell like. Aloe Water, I am imagining will be a light, crisp, clean smell and probably would be the one I'd pick out of the three.
You can check out all three fragrances at the Yankee Candle UK Store, here*.
I found a lovely Set of Three Votive Set for just £7.99 from an online store called Sands Gifts. They offer FREE Click and Collect or delivery at a charge of £3.99. This Votive set contains three votive candles from the Yankee Pure Essence range and a purple glass votive holder. There's also the Pure Essence Pack of 12 Wax Melts for just £12.79.