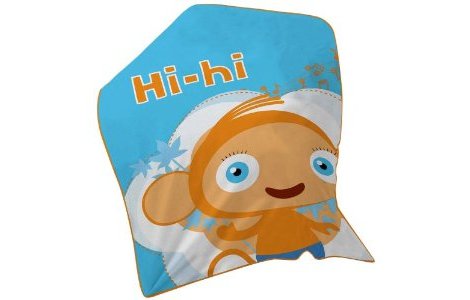 Amazon are currently selling this lovely Waybuloo Fleece Blanket for £3.50 instead of £9.99
If you've never come across Waybuloo then firstly, where you have you BEEN? And secondly, let me explain.
There are four main characters – Piplings – called Nok Tok, DeLi, Lau Lau and Yo Jo Jo.  They are kind and gentle creatures who represent various emotions that children can identify with.
Nok Tok represents wisdom, De Li represents love, Lau Lau imagination and and Yo Jo Jo represents fun and happiness. They live in a land called Nara and children come to visit and go on journeys of discovery and learn how to work together.
When all four of the Piplings are happy this is 'Waybuloo' and they all float up to the sky.
I know it sounds a bit bonkers but if you see it, I can pretty much guarantee that you'll fall in love with the gentleness of it.
So, if you have a Waybuloo fan then all of that, combined with the deliciousness that is being wrapped up in a cosy fleece blanket, means you shouldn't hang around if Amazon have left the price at £3.50 long enough for you to snap one up.
All the usual Amazon delivery blurb applies.
Thanks to andywedge at HUKD