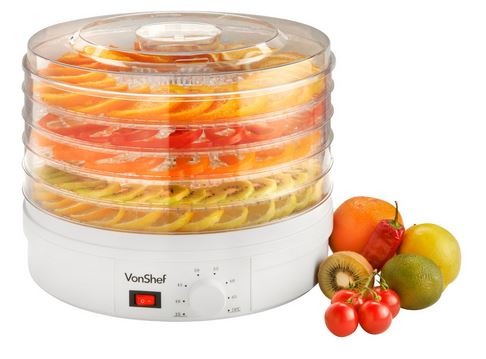 Amazon are selling the VonShef Food Dehydrator and Dryer Machine for £19.99, with a £7.99 delivery charge. If a dehydrator is on your wish list, this is an amazing price.
If you've never used a dehydrator, it's pretty simple: chop stuff up, put it in a dehydrator leave it for a few hours and out comes yummy 'chips'. Our favourite are over ripe strawberries - they make amazingly tasty strawberry chips that I have to hide from the kids or they'll finish them all in one go!
This Food Dehydrator is apparently reduced from £99.99, which is a massive saving.  You can use it for beef jerky, banana chips, dried fruits, fruit roll ups and many more, making ideal snacks for drying food for lunchboxes, snacking & grazing.
Dehydrating extracts moisture but retains nutrients, vitamins, minerals & taste, all the while preserving the foods for months.
The VonShef Food Dehydrator has 5 tiers of drying using a Flow-Drying system to slowly extract moisture & preserve foods, while the adjustable thermostat allows you to control the drying process (35-70°C).
A great way to use up extra, left over, or on it's way out fruit, and at a great price!