Viners Crockery Utensils And Cutlery Coupon Code: 40% Off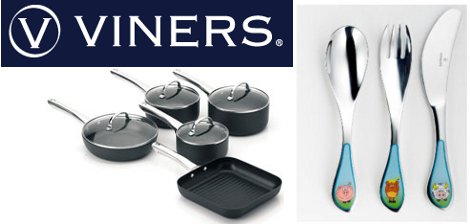 If it's time to refresh some of your kitchen bits, have a look at the Viners 40% off sale, with free delivery. The 40% off also applies to items already on sale.
Refresh your crockery, utensils and cutlery at Viners
Discount: 40% Off
Applies to: Everything, including new and sale items
Valid till: 31 January 2011
Coupon Code: VINERSXMAS40
I'm sure we're not the only ones who've would up with a hodge-podge of random cooking utensils, odd plate sets and a stray fork or two that never made it's way back to where ever it came from. A few years ago, we had a massive clear out and bought new sets of each – and let me tell you, that was Christmas, a birthday or two and a few special occasions all rolled into one, because setting up from scratch is never cheap.
With 40% off, however, there's hope.
This Techtonic 5 piece cookware set, for example, has a 25 year guarantee, is suitable for gas, ceramic, halogen, radiant and solid plate, and contains 16cm, 18cm, and 20cm saucepans, a 24cm frying pan, and 25cm griddle pan.
The original price was £148.75, but it's been discounted to £125.00. With the 40% coupon code, it is now £75.00.
The coupon code also works on new items, such as the Farmyard 3 piece cutlery set, made of stainless steel, and consisting of a knife, fork and spoon – all with a 10 year guarantee. Originally £15.00, the set will now cost you £9.00.
There are loads of other beautiful pieces, so have a look, and remember postage is free on all orders.
Thanks to spongemagic at HUKD