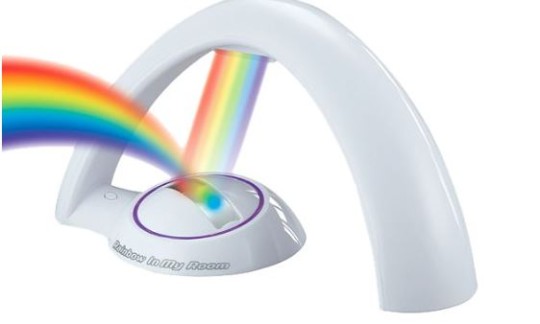 This is a new one on me, but the Uncle Milton Explore It 'Rainbow In My Room' from Amazon is reduced to £14.99, with 99p delivery. It's upwards of £20 everywhere else, and gets pretty good reviews.
This amazing product uses multi-coloured LED's to recreate the brilliant colours of a rainbow - nature's most beautiful light show.
You can transform your room into a magical and colourful wonderland by projecting the beautiful rainbow arc onto walls and ceilings.  The Rainbow in my Room includes an auto shut-off mechanism when not in use and an instruction sheet with fun rainbow facts.
The reviews on this are very mixed, but I think this one sums it up best:
If you are after a bright light to light up the room and a scientific piece of apparatus in the form of a prism then this is not for you. However, if you want something pretty that is atmospheric and comforting in a child's bedroom then this is perfect.
It sounds perfect for a nightlight or something soothing to get the little ones to sleep.