Tefal Kitchen Machine QA403 £147.99 @ Home & Cook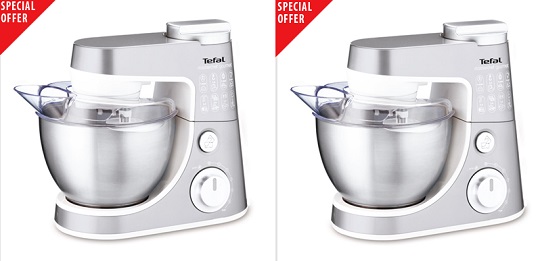 Isn't this just a delicious gem of a deal for all you parents who love to cook? The Home & Cook store has reduced the Tefal Kitchen Machine from £179.99 to £149.99 which is a very nice saving of £32 off the usual price. When you consider how expensive these gorgeous gizmos are, this is a great deal indeed.
The Tefal Kitchen Machine QA403 with stainless steel bowl is an easy-to-us machine with a multitude of functions, including shredding, slicing and kneading - it also includes a 1.5l Blender! It is easy to use with a nice combination of tools and speeds and it is very powerful with plenty of extra attachments.
The electronic speed control has six positions and a pulse function, a 4L stainless steel bowl withy handles and a splash guard, high quality metal pastry tools, a die case kneading hook and beater, a metal whisk and a powerful motor. This would make an awesome Mother's Day gift!