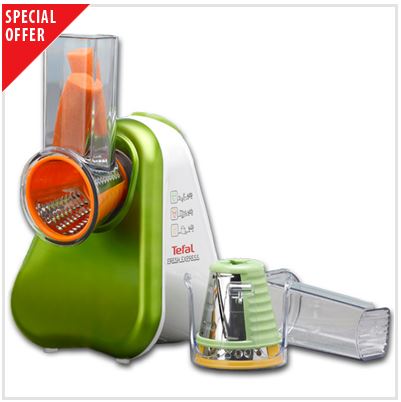 Home and Cook have a sale on a number of kitchen goodies right now, and one of the most discounted items is the Tefal Fresh Express Green which is £34 instead of £44.99. In the interest of getting you the best deal, there's an Amazon seller that currently has it at £29.49, but there's only one left, so if you don't get that one, the next best option is £44.71, making the Home and Cook one cheaper, especially since delivery is included too. 
I love a good kitchen gadget, but just because something's on the market doesn't make it good - I've bought more than my share of not so great products. This one has been approved by the Good Housekeeping Institute for 2014, which I'm taking to be a good sign.
The Tefal Fresh Express helps with preparation for a raw food diet, and is great for those trying to cut out things like pasta, since you can use it to make spirals and all sorts - courgette lasagne, anyone?
The Tefal Fresh Express will finely slice, shred or grate cheese, fruit and vegetables. It comes with three cone attachments and instructions for use.